The year 2013 was Grand Central Terminal'sl centennial anniversary. Extensively renovated in 1998, Grand Central not only offers dozens of train platforms servicing hundreds of daily departures and arrivals but it is also a place to eat and shop. The ceiling is painted to look like the night sky. The terminal offers walking and audio tours as well.
At the end of the session, you will have:
read and answered some questions about the Grand Central Terminal using its official website.
learnt the use of "for" and "since" with present perfect.
designed the final version of your infography.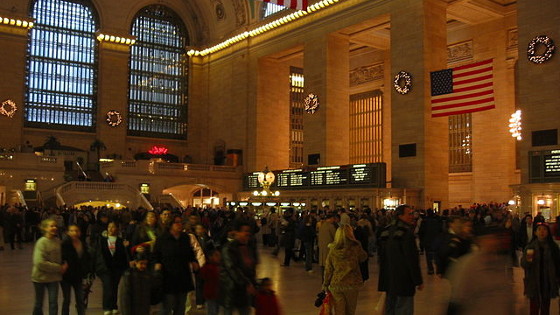 Would you like to know more about the Grand Central Terminal in New York? Do you usually travel by train or underground? Or do you rather use other means of transport? 
Visit the The Grand Central Terminal Official Website, read the questions and answer them:
When does the Grand Central Terminal? (To find out, visit the "Plan your visit" section).
Which are the subway lines that stop at Grand Central Terminal (42nd & Lexington Av)? (To find out, visit the 'Subway map' section).
What languages is the Audio Tour available at? Listen to a sample of this tour in English (To find out, visit the 'Tours' section).
What means of tranport can you take from Grand Central Terminal? (To find out, visit 'Transportation' section).
You have to answer these questions in your learning diary.
Remember that The Grand Central Terminal must be a part of the route at your Google Site map. 
Continue with your posts on Twitter (#taskbiography and #projectnewyork). Choose one of the shops or dinning places from the sales section and send a tweet with the name of the place you have chosen. You can also tweet the answer to the previous questions adding the link of your post from your learning diary.
You can also watch the Video Tour of Grand Central Terminal to have an idea of its architecture and send the Grand Central Terminal a tweet telling them you have visited the Station virtually.