Arriving at the end of our journey!
Our journey to the city of New York finishes at Times Square in Manhattan which is New York City's true crossroads. It is most famous for its digital billboards that light up the city day and night. Nearby you will find Broadway shows, restaurants and plenty of shops, as well as Madame Tussaud's Wax Museum. Times Square is also New York's media centre, with MTV, ABC and the New York Times all having offices there. Newyorkers welcome the New Year at Times Square.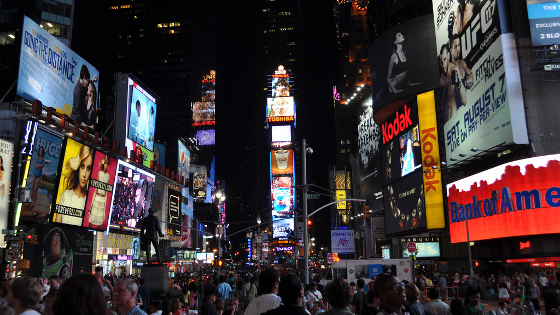 At the end of the session, you will have:
visited Times Square in New York.
listened to a conversation about the city of New York.
reflected on all the different tasks you have worked on at the Learning Diary.
If you go to Times Square's official website, you will be able to visit all the sections it contains and get to know what is on at the heart of New York at the moment.
Remember that Times Square must be part of the route at your Google Sites map.
Continue with your posts on Twitter (#taskbiography and #projectnewyork). Tweet Times Square telling it which section of the webpage do you find the most interesting and share the link. Meanwhile, visit Times Square's youtube channel, choose one of the videos and share it with a tweet using the hashtags of the project.