Did you see that colossal statue?
Discovering New York, you get to one of the most famous places: The Statue of Liberty. The colossal Statue of Liberty welcomes all travellers to American shores and it is placed in the southern side of Manhattan in New York Harbour. The statue was dedicated in 1886. It was declared a UNESCO World Heritage Site in 1984. Liberty Island is maintained by the National Park Service and can be reached by ferry.
What about you? Would you like to go there on your summer holidays in the future?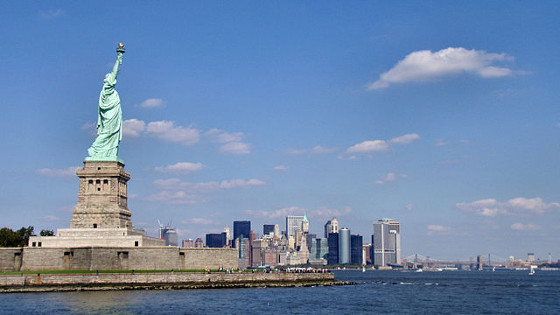 At the end of the session, you will have:
learnt a lot of details about The Statue of Liberty.
learnt the differences between past simple and present perfect. 
started your collaborative Google Site in groups about the city of New York.
Continue with your posts on Twitter (#taskbiography and #projectnewyork). Have you ever visited a statue? and have you ever travelled by ferry? Take a look at the video Statue of Liberty and discover the amazing Statue of Liberty.
This statue is next to Ellis Island, the first island immigrants saw when they arrived to New York in the past. You can also take a look at The Statue of Liberty - Ellis Island foundation official website. It is specially interesting to find out some details about the Statue of Liberty Timeline. 
You can also send them a tweet telling them that you have visited the island and the Statue virtually and a detail about it that you have learnt: Official Ellis Island - Statue of Liberty Twitter.
Remember that the Statue of Liberty must be part of the route at your Google Sites map.